Medistik™ ICE Roll-on
A roll-on formula with immediate cooling effects for tissue recovery during overexertion and sports activities.
Containing pure, natural ingredients, our formula provides support when a fast response and subsequent increased circulation of the skin is necessary for stiff limbs and for the back and neck areas. Natural ingredients - nourishing the joints, and promoting cartilage growth, our ingredients have anti-inflammatory effects, and soothe inflammation.
Rapid cooling effect for acute issues. Medistik™ ICE is absorbed quickly, and immediately cools the affected area. Perfect for hot days, after an injury, or for inflammatory issues. Limits the formation of bruises and swelling. Stimulates the nervous and muscular systems.
Easy and hygienic application - easy application without the need to apply with your hands, it facilitates use not only in the doctor's office, but on the go and at sports fields as well. Medistik ICE Roll-on does not need to be rubbed in, so it does not require post-application hand washing, as with other cream or gel-based products of this type.
Localised application directly to the affected area does not put stress on your digestive system like oral medications.
Medistik™ICE does not stain, and is free of parabens.
Uses for MEDISTIK™ICE Roll-on:
At the doctor's office and on the go for rapid recovery and soothing effects. Immediate cooling of the skin, and subsequent heightened circulation helps to relax tense calves, thighs, and strained back and limbs. Medistik Ice Roll-on provides great relief for phlebitis of the calves or heavy legs syndrome, rheumatism and arthritis, as well as for headaches.
How to apply MEDISTIK™ICE Roll-on: Apply to the skin on and around the affected area, about 5-10 cm wide. Absorbs into the soft tissue, not the bones! The size of the coated area determines the speed and strength of the effect.
Caution: For external use only. Keep away from eyes and mucous membranes. Do not use if you are allergic to any of the active ingredients.
Try our other Medistik™ products.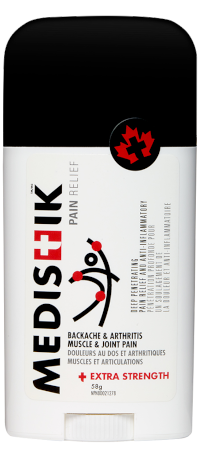 Medistik™
DUAL Stick
Warms and cools
sample: NO
58g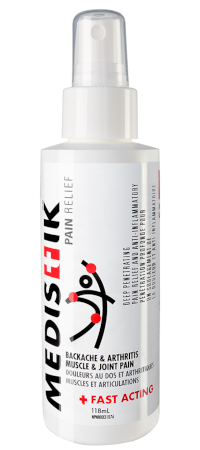 Medistik™
DUAL Spray
Warms and cools
sample: yes
118ml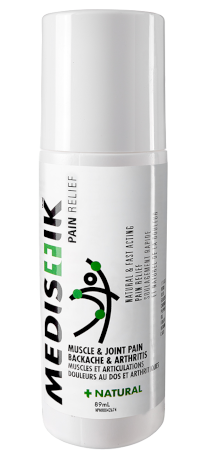 Medistik™
ICE Roll-on
Cools
sample: yes
89ml
Properties

Extra strength
Chronic and acute care

Works rapidly
Chronic and acute care
Localised cryotherapy
Acute care, swelling

Active
ingredients

30% Methyl Salicylate
15% Menthol
1% Eucalyptus Oil

12% Methyl Salicylate
10% Menthol

With MSM, Ilex, Glucosamine,
Chondroitin, Boswellia.

10% Menthol
4% Camphor
2% Peppermint Oil

With MSM, Ilex, Glucosamine,
Chondroitin, Folic Acid, Vitamin C.