Medistik™ DUAL Spray
A unique spray application formulated for fast relief of strained muscles and joints resulting from physical exertion and sports activities. Helps when and where you need it the most.
Innovative product - thanks to the unique ingredients, this product heats or cools, according to the state of the tissue. Relieves pain without numbing, leaving you able to function physically.
In addition to the high concentration of active ingredients that are included in Medistik Dual Stick, our spray also includes additional ingredients for the support of joint and tendon health, available thus far only in pill form. Natural ingredients - nourishing the joints, and promoting cartilage growth, our ingredients have anti-inflammatory effects, and soothe inflammation. The spray applicator allows ingredients to find their way directly to the affected area. For a complete list of ingredients, see the table below.
Reliable effectiveness - the active ingredients penetrate deeply, aiding the blood-flow to the affected area and surrounding tissue, while promoting the circulatory and detoxification functions.
The perfect, fast solution for acute issues. Thanks to rapid absorption, Medistik Spray works instantly. It helps relax muscle spasms brought on by sports or other strenuous physical or job-related activities, and alleviates the aftereffects of overexertion.
Easy and hygienic application - easy application without the need to apply with your hands, it facilitates use not only in the doctor's office, but on the go as well: at sports fields, and following strenuous work-related performance. Medistik spray does not need to be rubbed in, and does not require post-application hand washing as with other cream or gel-based products of this type.
Localised application does not put stress on your digestive system like oral medications.
Medistik™ Spray easily penetrates through hair to the affected area. It is non-greasy, does not colour materials it comes into contact with, and does not stain.
Where can MEDISTIK SPRAY be used?
Just like MEDISTIK™DUAL Stick - for strains resulting from sports and strenuous physical activity, at the doctor's office or on the go. Thanks to the immediate absorption and hygienic application, it is very popular with athletes, in doctor's offices, and at physical therapy centres. Medistik™ Dual Spray is used to warm muscles before work-related or sports activities, and for the relief of stiff and sore joints following exercise or exertion. Perfect for the back, knees, and the joints of your hands and feet.
How to apply: Apply MEDISTIK™DUAL Spray 10-20 cm from the skin to the affected and surrounding area, about 5-10 cm wide. It is absorbed into soft tissue, not into the bones!
Caution: For external use only. Keep away from eyes and mucous membranes. Not for use for children under 12 years of age. Do not use if you are allergic to any of the active ingredients.
Try our other Medistik™ products.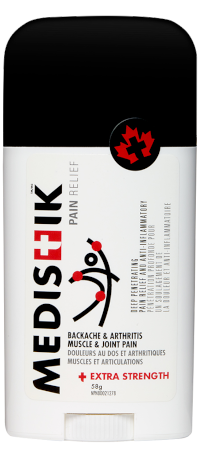 Medistik™
DUAL Stick
Warms and cools
sample: NO
58g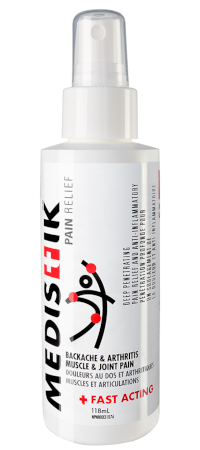 Medistik™
DUAL Spray
Warms and cools
sample: yes
118ml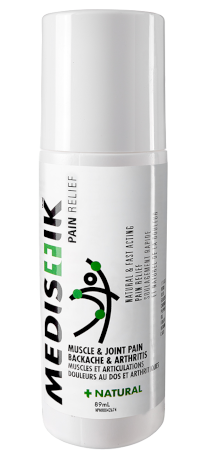 Medistik™
ICE Roll-on
Cools
sample: yes
89ml
Properties

Extra strength
Chronic and acute care

Works rapidly
Chronic and acute care
Localised cryotherapy
Acute care, swelling

Active
ingredients

30% Methyl Salicylate
15% Menthol
1% Eucalyptus Oil

12% Methyl Salicylate
10% Menthol

With MSM, Ilex, Glucosamine,
Chondroitin, Boswellia.

10% Menthol
4% Camphor
2% Peppermint Oil

With MSM, Ilex, Glucosamine,
Chondroitin, Folic Acid, Vitamin C.